Null Route Networks Shared Blocklist Service
The shared blocklist service accepts entries from known participants, based on detected abusive traffic, which are then combined into an overall list available in several program-digestible formats for use in your own firewall rules.

The service will automatically expire entries and remove them from the list once their expiry time has passed. When parsing the list into your own firewall rules you may choose whether to remove entries when the list expires them, or to keep them in your local lists.

The service does not know what any given user's authorized hosts/subnets are. It is your responsibility as you are parsing the list to exclude any IPs/ranges you wish not to block in the case of an erroneous submission.

If you believe you've been listed in error, either wait for the entry to expire, or reach out with the details.

The list is available for consumption here. Alternate output formats are available by appending "?format=" and the format name: 'json', 'csv', and 'raw'. Additionally you can specify the address family with "?ipver=4" for IPv4 entries only, "?ipver=6" for IPv6 entries only, or do not specify to receive both families.

If you wish to contribute to the list, please reach out with your contact details and the type of abuses you're capturing and would like to submit. Your message will be reviewed and once approved you will be issued an API key and instructions on submitting.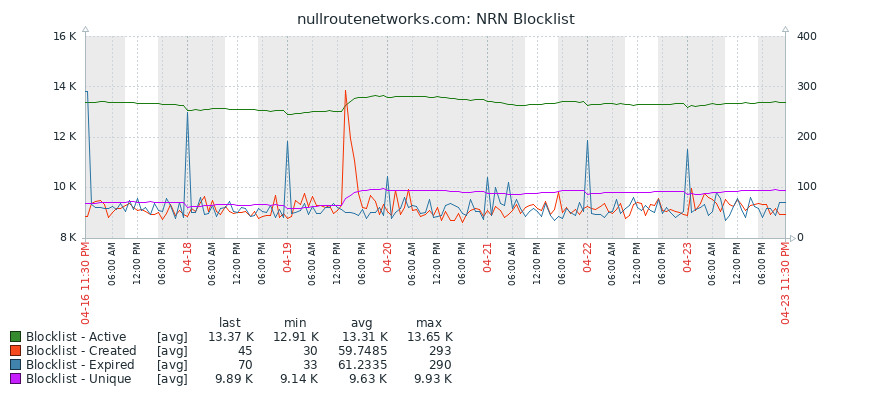 Top ASNs (By Number of Reported IPs)
| | | | |
| --- | --- | --- | --- |
| ASN | Count | Entity | Country |
| 14061 | 655 | DIGITALOCEAN-ASN, US | US |
| 132203 | 488 | TENCENT-NET-AP-CN Tencent Building, Kejizhongyi Avenue, CN | CN |
| 16276 | 113 | OVH, FR | FR |
| 4766 | 87 | KIXS-AS-KR Korea Telecom, KR | KR |
| 396982 | 85 | GOOGLE-CLOUD-PLATFORM, US | US |
| 4134 | 66 | CHINANET-BACKBONE No.31,Jin-rong Street, CN | CN |
| 45090 | 61 | TENCENT-NET-AP Shenzhen Tencent Computer Systems Company Limited, CN | CN |
| 8075 | 59 | MICROSOFT-CORP-MSN-AS-BLOCK, US | US |
| 36352 | 57 | AS-COLOCROSSING, US | US |
| 4837 | 36 | CHINA169-BACKBONE CHINA UNICOM China169 Backbone, CN | CN |
Top IPs (By Number of Unique Reports)
| | | | | |
| --- | --- | --- | --- | --- |
| IP | Count | ASN | Entity | Country |
| 103.233.205.194 | 4 | 133524 | GTCL-AS-AP Global Technology Co., Ltd., MM | MM |
| 164.90.182.73 | 4 | 14061 | DIGITALOCEAN-ASN, US | US |
| 84.32.44.158 | 4 | 142036 | HOSTEONS-AS-AP Hosteons Pte. Ltd., SG | SG |
| 43.128.229.157 | 4 | 132203 | TENCENT-NET-AP-CN Tencent Building, Kejizhongyi Avenue, CN | CN |
| 212.23.214.137 | 3 | 209638 | PTCO, IR | IR |
| 62.99.74.174 | 3 | 12338 | EUSKALTEL, ES | ES |
| 150.109.5.71 | 3 | 132203 | TENCENT-NET-AP-CN Tencent Building, Kejizhongyi Avenue, CN | CN |
| 43.134.132.76 | 3 | 132203 | TENCENT-NET-AP-CN Tencent Building, Kejizhongyi Avenue, CN | CN |
| 162.212.152.68 | 3 | 11878 | TZULO, US | US |
| 43.156.68.233 | 3 | 132203 | TENCENT-NET-AP-CN Tencent Building, Kejizhongyi Avenue, CN | CN |